More and more, companies are finding improved productivity through having their data stored in the cloud.
We've been offering a hosted option for over 10 years. We have a proven track record of keeping data secure, up to date, and always accessible.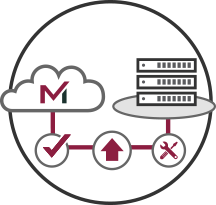 Try Medforce in the Cloud
Medforce is pleased to offer a SaaS option for our software that minimizes your IT costs, maximizes your uptime, and provides great performance at any volume. You and your users can connect securely from anywhere; there is no need to maintain and manage connections to your central location.
Other benefits of using a Medforce-hosted system include:
Eliminate backup costs with multiple, consistent backups included
High availability. All App and database servers are housed across multiple data centers ensuring no downtime even in the event of a data center outage
Disaster recovery plan in place
Minimize hardware requirements: No servers needed. No storage limits.
All maintenance completed by us, including operating systems, antivirus, and intrusion detection
Seamless software upgrades completed by us, as soon as they are available.
Data encryption in transit and at rest for full HIPAA/HITECH compliance
For some customers, using a hosted system simply means less time and cost spent on maintenance. For some it is much more than that. It can mean increased compliance, availability, and disaster recovery since encrypting, backing up, and maintaining multiple servers for high availability can be challenging for providers and may not be in the budget.
Remember - whether you are an on-prem or cloud customer, with Medforce you always own your data, and we will never hold it ransom.
Is a hosted Medforce system right for you?
If you answer yes to one or more of these questions, you should consider hosting your Medforce in the cloud.
Would you like to stop spending IT resources and time maintaining servers and backups for Medforce?
Do you lack confidence in your disaster recovery plan for your data, in the event your servers go down?
Are you unsure if you even have a disaster recovery plan in place?
Are you skeptical of your back up program's ability to swiftly recover your database in the event of hardware failure or accidental data deletion?
Would you prefer Medforce upgrades were real time and seamless, and you never had to worry about storage space again?
Have you ever had a security breach or do you worry about the compliance risks of storing your own data?
You are experts in healthcare. We are experts in technology.
Let us each shine at what we do best.